August Schell Oktoberfest 6pk
RateBeer: 92
We've found the key to what makes Fall so special, and its called Octoberfest. This rich, smooth lager uses a perfect balance of caramel, pale, cara-pils and black malts to create the best Octoberfest beer of the season. Available September through October.
Hofbräu München Oktoberfestbier 6pk
The Munich Beer Festival, or Oktoberfest, is an event of superlatives - it's the largest popular festival in the world, staging in the beer metropolis of Munich. Millions of visitors from all over the world flock along every year to enjoy its very special atmosphere. For this occasion, Hofbräu brews a rich, full-bodied beer which goes down ideally with traditional Bavarian cuisine. With its deliciously bitter taste and alcoholic content of 6.3% volume, Hofbräu Oktoberfestbier is as special as the Beer Festival itself.
LakeFront Pumpkin Lager 6pk
Pumpkin Lager is brewed with pumpkins in the mash, spices added during the boil, and lightly hopped. The rich specialty grains and lager fermentation combine to produce the taste and the texture of pumpkin pie.
Sierra Nevada Flipside 6pk
RateBeer: 95
Flipside Red IPA is a rebuttal to the mild-mannered beers of summer. Tropical fruit and citrus hop flavors from the use of whole-cone Citra, Simcoe and Centennial hops are the perfect notes for this in-between season.
Tyranena BGW Hop Whore Imperial India Pale Ale 4pk
RateBeer: 99
Overpowering perfume. Dripping with luscious hop flavor. And, oh what a body. You're in for one helluva experience!
Tyranena Painted Ladies Pumpkin Spice Ale 6pk
RateBeer: 96
The Painted Ladies Annual Fling celebrates the renaissance of downtown Lake Mills. Although named for the restoration of the many Victorian storefronts, some of the more adventurous women-folk added a playful twist and dressed as, well, painted ladies. Inspired by these bold and spicy women, we brewed Painted Ladies, a pumpkin and spice-infused amber ale. This fall, make sure you enjoy a fling with a few Painted Ladies.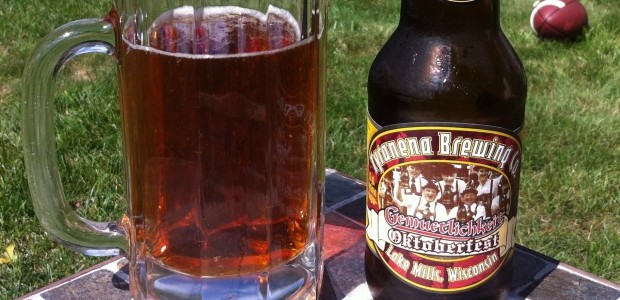 Tyranena Gemuetlichkeit Oktoberfest 6pk
Gemuetlichkeit Oktoberfest is a rich, amber lager with a malty aroma and balanced hop bitterness. This seasonal style is served at German Oktoberfests in liter steins. 
Weihenstephaner Vitus
RateBeer: 98
A light-coloured, spicy single-bock wheat beer, for both beer lovers and the beer connoisseur. Extra long and cold storage in our monastery cellars makes this single-bock a really special beer with full body and a distinctively great mouthfeel. Prost!