Petrus Aged Red Ale 11.2oz.
Rogue Voodoo Chocolate, Peanut Butter, & Banana Ale 750ml (To be delivered Friday June 7th, 2013)
A Collision of Crazies Rogue Ales has again collided with Voodoo Doughnut to create Chocolate, Banana & Peanut Butter Ale! This unique artisan creation contains a baker's dozen ingredients including chocolate, banana and peanut butter to match Voodoo's "Memphis Mafia" doughnut- a nod to Elvis' entourage.
2-Row, C-150, C-175, Carafoam Special II & Chocolate Malts; Rogue Farms Revolution & Independent Hops; Chocolate, Peanut Butter & Banana; Pacman Yeast and Free Range Coastal Water.
Southern Tier Compass Sparkling Ale 22oz.
RateBeer: 97
Sparkling Ale with rose hips.
Southern Tier Plum Noir 22oz.
Plums are a diverse group of species, with somewhere between 19 & 40 varieties depending upon whom you ask. We're using what we consider to be the best to brew with. the Italian plum has beautiful dark skin & the flesh is perfect for fermentation. Plum Noir's mild sweetness is derived no necessarily from the many malts we use. A bit of plum flavor is present as well as earthy, toasted grains, & hints of caramel with mild coffee overtones.
Scheldebrouwerij Oestertout 11.2oz.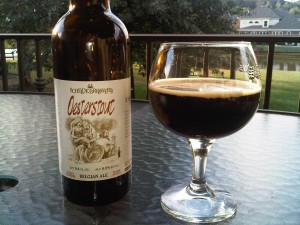 RateBeer: 91
Filtered over Zealand oyster shells.
Sam Adams Imperial Stout 4pk
RateBeer: 95
Our take on the stout brewed by 18th century English brewers for the Russian Imperial Court of Catherine II. The special malted barley in this intense and massive brew delivers rich flavors like dark chocolate, coffee and anise.
The Perfect Crime Smoking Gun 11.2oz.
It should be indisputable evidence when a smoking gun is right in front of You. Maybe You can even smell the burning, toasty nose, see the easily recognizable head and taste the gun powdery finish. This is not the case.
The Bruery Bois 750ml (To be delivered Friday June 7th, 2013)
RateBeer: 100
May is our anniversary month and we are excited to release Bois, our fifth anniversary ale this week! This beer is brewed in the English-style Old Ale tradition using our house Belgian yeast strain and then blended using the solera method, where a portion of each of our anniversary ales is saved in our barrels and blended in with the next year's production, providing more complexity and depth of character that comes with age.
The Bruery HottenRoth 750ml (To be delivered Friday June 7th, 2013)
RateBeer: 95
Brewed in memory of my Grandparents (Fred and Sarah Hottenroth), this tart German-style Berliner Weisse is as authentic as it gets. We used lactobacillus and a hint of brettanomyces to sour this very unusual, low gravity wheat beer. To cut the tartness for those with sweeter tastes, raspberry or woodruff syrup is a traditional way to sweeten the beer. Almost an extinct style, we hope to help revive the Berliner Weisse in memory of two great people (ABV 3.1%, IBU 2, SRM 2, Format 30L kegs).
The Bruery White Oak 750ml (To be delivered Friday June 7th,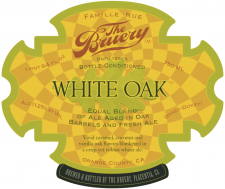 2013)
RateBeer: 98
Early summer, this barrel aged wheat wine is coming out very nicely (12% ABV) White Oak is a blended beer-- 50% wheatwine aged in Bourbon barrels (we call it "White Oak Sap"), and 50% Mischief (our Golden Strong Ale). Vivid caramel, coconut and vanilla flavors blanketed in a crisp yet robust wheat ale, White Oak is an exercise of balance.
2012 vintage - 11.5% abv