Anderson Valley Summer Solstice 6pk btl
Summer Solstice Seasonal Ale is not just your average summer seasonal. This unique copper colored ale is smooth, malty, and lightly sweet, with a delicate hint of spice for that oh-so-drinkable, extra velvety flavor.
Breckenridge Summer Bright Ale 6pk btl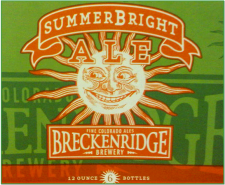 The brewmaster's goal: the perfect ale for summertime quaffing, nothing more. SummerBright is the result. The craftsman's touch combines white wheat, two row pale and munich malt with the pacific northwest's most intriguing hops to create a bright, clean ale ideal for picnicking, evenings on the screen porch and enjoying the whims of the summer breeze.
Hebrew Hop Manna 22oz. (To be delivered Friday June 21st)
RateBeer: 95
In the book of Exodus, the ancient Hebrews survived 400 years of bondage before the ultimate supreme court dropped the 10 deadly Plagues on the land of the taskmasters and the head dictator, Pharaoh. Even then, only begrudgingly, did he Let My People Go. The freedom ride across, nay through the sea left a band of wandering nomads broke and suffering, no doubt with a profound hunger – and a mighty thirst. Enter the Manna: a glorious gift to nourish body and soul. Manna was said to combine the tastes of everything most delicious to each individual, depending on their desire. And as the Good Book says, Each shall gather according to one's need and shall enjoy a double portion for thine chosen day of rest. Manna fed the entire tribe, but tradition suggests the righteous received manna ground in a heavenly mill, while the wicked had to grind it below for themselves. Hear o' Tribe of Shmaltz – Behold: A celebration of the flower of the craft beer revolution! A golden opportunity to feed your inner hop head and rejoice in HOP MANNA, our newest delicacy of the modern He'brew Beer family. L'Chaim! Dry Hopped with Centennial, Cascade and Citra (Centennial and Cascade in Batch 4).
JP A Cappella Gluten Free Pale Ale 6pk can
A Cappella, or "in the manner of the chapel," means singing without instrumental sound. JP's A cappella gives you the flavor and aroma of a great tasting Pale Ale without wheat or malted barley. Get it? JP's A capella Pale Ale is packed with English-style hops for big time hop flavor. Go ahead, be heard singing your own tune, A cappella.
JP Casper White Stout 6pk can
Throw your expectations out the window. We know stouts are supposed to be dark, but what fun is that? Really. Casper White Stout is a white buffalo standing our from the herd- a diamond in the rough, white chocolate-you get it. Distinctively golden in color with big Pilsen malt flavor, and a touch of hops. Your next step? Pour it in your glass.
JP Irish Red IPA 6pk can
Ever hear of a Irish Red India Pale Ale? Neither did we. Expect the unexpected with JP's Ould Sod, inspired by the age-old Red Ales of Ireland. Decked out with a boatload of hops (Goldings, Fuggle & Hallertau) balanced with two-row and caramel malts. An adventure up for grabs on the road less traveled.
Grand Teton Old Bruin 750ml (To be delivered Thursday June 20th)
2013 marks the 25th anniversary of Grand Teton Brewing. In celebration, we're bringing back three of our favorite styles for this year's Cellar Reserves. Our Oud Bruin was first brewed in 2007 and quickly became a brewery legend.
The "Oud Bruin" or "old brown" style beers, brewed in and around Oudenaarde, on the river Scheldt in East Flanders, are notable for their complex combinations of malt, long boiling times (which provide some caramelization of the wort), and multi-strain, top-fermenting yeasts, some with lactic and acetic character. These are often "provision beers," bottle-conditioned for cellaring, to be brought out when they can be savored. Their thirst-quenching sweet-and-sour character makes them perhaps the most refreshing beers in the world.
Our Oud Bruin is firmly in the East Flanders tradition. We used American 2-Row barley and German melanoidin malt (for red color) as well as maize (to lighten the body). The wort was boiled in the kettle for four hours and hopped lightly with Idaho Galenas for balance.
We fermented with a Flemish blend of yeast and bacteria cultures, including lactobacillus, pediococcus, and brettanomyces. It took six months at cellar temperature for the culture to achieve the style's characteristic quenching sourness. Finally, we bottle-conditioned the beer according to the "methode champenoise," so it can be laid down, to be brought out when it can be truly enjoyed.
Because of its lactic and acetic sourness, this is a wonderful beer for cooking and pairing with food. Unlike any wine, Oud Bruin complements vinegary dishes such as salads or even pickles. Its flavors will enhance those of shellfish, liver, rabbit, and game birds like quail. The acidity of the beer tenderizes beef and is ideal for braising—try it in the classic Belgian Carbonade Flamande.
New Holland Michigan Hatter 22oz.
Michigan Hatter celebrates our local agriculture with its Michigan-grown Cascade hops from the Leelanau Penninsula. Bright and aromatic, with delicious malt notes underneath a citrusy showcase of hops. Pairings: sharp cheddars, herb-roasted poultry and curry.
Oskar Blues CANUNDRUM Variety Packs 12pk
4 cans each of Old Chub, Dales Pale, and Mama Yella Pils
Sierra Nevada Hoptimum 4pk
RateBeer: 100
A group of hop-heads and publicans challenged our Beer Camp (#19) brewers to push the extremes of whole-cone hop brewing. The result is this: a 100 IBU, whole-cone hurricane of flavor. Simply put- Hoptimum: the biggest whole-cone IPA we have ever produced. Aggressively hopped, dry-hopped and torpedoed with our exclusive new hop varieties for ultra-intense flavors and aromas.
Hops, hops and more hops are the stars of this big, whole-cone Imperial IPA. Resinous 'new-school' and exclusive hop varieties carry the bold and aromatic nose. The flavor follows the aroma with layers of aggressive hoppiness, featuring notes of grapefruit rind, rose, lilac, cedar and tropical fruit – all culminating in a dry and lasting finish.
Beer specs:
ABV: 10.4%

Original Gravity: 22.8 Plato

Final Gravity: 4.5 Plato

Bitterness Units: 100 IBU

Color: Orange Amber

Bittering Hops: German Magnum

Aroma Hops: Simcoe & New Proprietary Variety

Dry Hops: Simcoe & New Proprietary Variety

Torpedo Hops: Citra & Chinook

Malts: Two-row Pale, Golden Promise, Munich & Wheat

Yeast: Ale
Saint Francis Brewing Company
3825 S. Kinnickinnis Ave, St. Francis, WI
A little history….
Saint Francis Brewery opened in the Spring of 2009 to great popularity and success. Known for our hand-crafted beers, Brewmaster Scott Hettig has built upon our foundation of five beers: Kolsch, Amber Ale, Nut Brown Ale, Weiss and Oatmeal Stout to feature a Bohemian Pilsner, Double Red Ale, Belgian Triple and many more. These wonderful beers are complimented by the great food created by our executive chef.
Scott Hettig is the Brewmaster at Saint Francis Brewery and Restaurant in St. Francis, WI. Like many Brewmasters, he began his career as a home brewer. In his late 30s, he finally decided what he wanted to be when he grew up and he turned his hobby into a career. A local brewer gave him his start as an apprentice brewer. From there he became a full-time assistant at a microbrewery in Ohio before landing at Saint Francis last year. As the Brewmaster he admittedly uses that title loosely, as "I still have a lot to learn. But, learn I will...one pint at a time!"
And now some of these fine beers are finally available outside the brewery. Here is what we have so far..
Saint Francis Envy IPA 6pk btl (To be delivered Thursday June 20th)
England was the ENVY of the world in the 18th century. This style of beer was first referred to as "pale ale as prepared for India" (India… it was ours once, you know). Our English-style IPA shows a deep copper color with a luxurious head. Hops are at the forefront of this ale's flavor and aroma, though it finishes with a nice malty backbone… very tasty. ABV: 6.8
Saint Francis Lust Weissbier 6pk btl (To be delivered Thursday June 20th)
We brew this traditional Bavarian beer with a generous amount of wheat and use a special strain of yeast that results in wonderful banana and clove flavors. Served "mit hefe" where the yeast is not filtered out, giving the beer a cloudy appearance and a bright white lacing head. ABV: 6.5
Saint Francis Wrath Amber Ale 6pk btl (To be delivered Thursday June 20th)
A variety of caramel and chocolate malts are added to a basic pale ale to produce a slightly darker color thus creating our Amber Ale. Richly amber in color, the balance of malt and four different Noble hops makes this filtered ale one of our most popularbeers. ABV: 6.4