Anderson Valley Fall Hornin 6pk
With a brilliant, deep copper hue and creamy beige-colored head, our Fall Hornin' Pumpkin Ale has inviting aromas of caramelized malt and baking bread with highlights of cinnamon, nutmeg, pumpkin and seasonal spices. The pleasantly creamy mouthfeel and silky body embrace the sweet caramel flavors and tang of spices (with just a hint of hops) that ends in a smooth, round finish.
Breckenridge Autumn Ale 6pk
Looking for a fresh take on Oktoberfest beer? Breckenridge Brewery's fall seasonal combines the malty goodness of a German lager with the clean crispness of an American ale. Brewed with Munich malts and a delicate blend of Bavarian hops, our Autumn Ale is a full-bodied treat with a nutty-sweet middle, a warming alcohol level and notes of toasted grains. A pre-winter winner.
Hinterland Oktoberfest 4pk
Oktoberfest pours with a deep golden color. This lager's head is thick and foamy which leaves a thick web of lace. The sweet caramel and brown sugar aroma balances well with a hint of grain. Very malty and lightly hopped, the flavor of rich caramel makes this Oktoberfest extremely drinkable.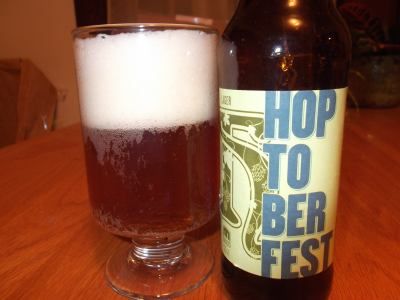 Milwaukee Brewing Hoptoberfest 6pk
Milwaukee Brewing Company's hoppy take on a classic seasonal German style lager. Brewed with pale ale, caramel, and toasted Munich malts that attribute a sweet earthy malty flavor, toasted aroma, and a bright orange hue. German tettnanger hops add a herbal peppery flavor and nose.
New Holland Ichabod Pumpkin Ale 6pk
Ichabod is fall in a glass. We take the soul of a Michigan fall and blend it into a beer masterpiece. With the essences of everything from gingerbread to pumpkin pie, Ichabod complements all kinds of autumn traditions. That's probably why Ichabod boasts one of the most fanatical followings of any of our beers.
Summit Oktoberfest 6pk
Created to honor the popular European fall celebrations, Summit Oktoberfest is brewed in the Marzen style for a reddish-bronze color, smooth finish, and, of course, polka.
Shipward Smashed Pumpkin 22oz.
RateBeer: 95
Smashed Pumpkin is a big-bodied beer with a light coppery orange color and pleasing aroma of pumpkin and nutmeg. The OG and final Alc./Vol. provide the structure and body. Pale Ale, Wheat and Light Munich Malts combine with the natural tannin in pumpkin and the delicate spiciness of Willamette and Hallertau Hops to balance the sweetness of the fruit. To fully enjoy all the flavors, this ale is best drunk at 55 degrees Fahrenheit. Smashed Pumpkin pairs well with sharp cheeses, nuts, lamb, hearty stews and desserts like flan or pumpkin pie. Chefs find this an excellent beer to cook with in dishes such as braised short ribs.
Tommyknocker Small Patch Pumpkin 6pk
A festive seasonal ale with pumpkin and a touch of molasses and spice
Strength (ABV): 
 5.0% ABV
Bitterness (IBU): 
15 IBU